Sporistics
Rudolph the Redneck Blomph
Good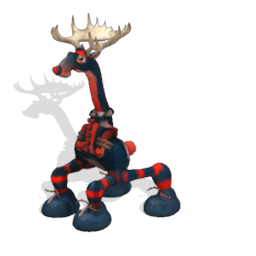 Download

By bayareaartist
11/24/2009 - 03:04:59
Type: Creature
Rating: 27.5 (Good)
Tags: bayareaartist, blomphcontest, demogorghonwhite
Description
Rudolph the Redneck Blomph had a very shiny nose. And if you ever saw him, you would even say it glows. All of the other Rednecks used to laugh and call him names. They would'nt let poor Rudolph, play in any Redneck games. Then one foggy Christmas Eve
Santa came to say:
"Rudolph with your nose so bright,
won't you guide my sleigh tonight?"

Then all the Blomphs loved him
as they shouted out with glee,
Rudolph the Red-nosed Redneck,
you'll go down in history!

Details
1990
DNA points
Diet:
Herbivore
Health:
+2
Sociability


10 / 20

Aggressiveness


11 / 20

Abilities


5 / 15
See creations
User profiles
Enter a profile's name:
Search
Enter the words to search:
Creations
Enter an ID number of a creation or Sporecast:
Compare achievements
Enter the name of two users in order to compare their achievements
Events
Contact us at
Web by Alex Aladren