Sporistics
AAPPM-1552 Cuirass
Not rated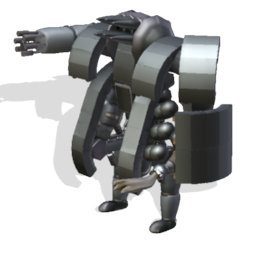 Download

By Remmington12
01/14/2020 - 20:30:23
Type: Colonial creature
Rating: 1.53 (Not rated)
Tags: armoured anti-personell personal mech, domaric, mech, walker
Description
"REFUELING FLAME CANISTER."
The Domaric way of bringing the firepower of a tank into environments where a traditional vehicle proves not mobile enough, such as very irregular terrain a urban warfare.

Armed with a quadruple punt gun, an anti-materiel gatling cannon, a flamer to defend it's blindspots a 6 nanonukes that can not only deal decimating damage but also leave an area impassable for quite some time.
Details
2557
DNA points
Diet:
Carnivore
Health:
+1
Meanness
0 %
Cuteness
15.71 %
Sociability


2 / 20

Aggressiveness


3 / 20

Abilities


0 / 15
See creations
User profiles
Enter a profile's name:
Search
Enter the words to search:
Creations
Enter an ID number of a creation or Sporecast:
Compare achievements
Enter the name of two users in order to compare their achievements
Events
Contact us at
Web by Alex Aladren