Sporistics
Lockheed P-38 Lightning
Good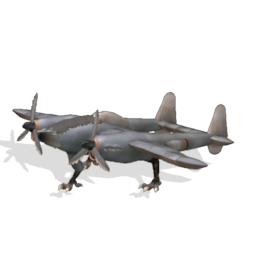 Download

By 321Aerobird
07/26/2020 - 03:24:50
Type: Creature
Rating: 13.75 (Good)
Tags: 321aerobird, biological, bird, black, engines, fighter, if modified keep 321aerobird in tags, lightning, lockheed, piston, plane, pursuit, silver, single, two, war, world, wwii
Description
The biological equivalent of the P-38 Lightning which is a twin piston-engined fighter aircraft used in WWII.
WS: 52 ft (16 m) L: 38 ft (11.5 m)
This fighter was a great asset in WWII. It was used in the roles of a fighter-bomber, night fighter, a long-range escort (with extra tanks that can be dropped) and reconnaissance. This aircraft was very rugged and reliable in war. It could still fly with some bullet holes lodged into its fuselage. It can fly at high altitudes that its precursors. This aircraft helped changed what fighters would be like in the future. Throughout the war this aircraft was in high production. At the end of the War the aircraft was declared obsolete due to the jet age. Some aircraft were used by civilians. Today there are a few flight worthy Lockheed P-38 Lightning?s still flying in the skies.

Details
3360
DNA points
Diet:
Carnivore
Health:
+3
Sociability


6 / 20

Aggressiveness


9 / 20

Abilities


2 / 15
See creations
User profiles
Enter a profile's name:
Search
Enter the words to search:
Creations
Enter an ID number of a creation or Sporecast:
Compare achievements
Enter the name of two users in order to compare their achievements
Events
Contact us at
Web by Alex Aladren