Sporistics
Blue-winged Leafbird (F)
Good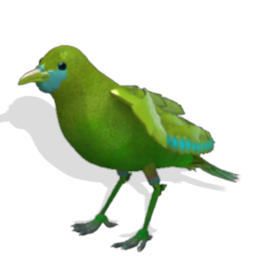 Download

Lineage

By 321Aerobird
07/01/2021 - 01:43:09
Type: Creature
Rating: 27 (Good)
Tags: 321aerobird, ave, bird, blue, colorful, duller, female, green, leaf, suggestion, teal, winged, yellow
Description
Chloropsis moluccensis
DIET: insects, fruits, berries, and nectar
DISTRIBUTION: Southeast Asia
The Blue-winged Leafbird is part of the Chloropseidae Family which consists of leafbirds. Leafbirds are passerine birds that have bright coloration.
INFO: This species is sexually dimorphic. The male has a distinct black throat and a brilliant plumage that fades from yellow to green. The female is duller and has a gradual green fade on her and has a teal throat pouch. Both males and females have teal wings/tails in which they get their name.
BREEDING: A cup-shaped nest is made in the treetops and, 2-3 eggs are laid. The female will incubate the eggs and the male feeds the female while she is incubating. The male could help feed the young, more research will be needed to confirm this. The juveniles will look like the female but lack the teal throat patch.
NOTE: The beak and the feet are supposed to be a different color. More green is present on the male and the females have some yellow on the head.
https://en.wikipedia.org/wiki/Blue-winged_leafbird
https://www.softschools.com/facts/animals/bluewinged_leafbird_facts/963/
https://www.beautyofbirds.com/bluewingedleafbirds.html
Suggested by R13426
ATTENTION: You can use/modify this creation, but please keep 321Aerobird in the tags to give credit.
Details
2230
DNA points
Diet:
Omnivore
Health:
+3
Sociability


8 / 20

Aggressiveness


6 / 20

Abilities


6 / 15
See creations
User profiles
Enter a profile's name:
Search
Enter the words to search:
Creations
Enter an ID number of a creation or Sporecast:
Compare achievements
Enter the name of two users in order to compare their achievements
Events
Contact us at
Web by Alex Aladren