Sporistics
Boeing B-29 Superfortress
Good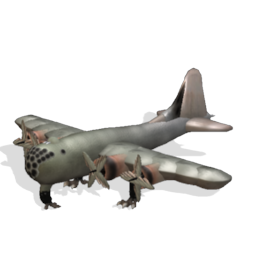 Download

Lineage

By 321Aerobird
05/14/2022 - 03:09:38
Type: Creature
Rating: 18 (Good)
Tags: 321aerobird, airforce, airplane, biological, black, boeing, bomber, engine, flight, gray, piston, plane, prop, usaf, wwii
Description
The biological version of the Boeing B-29 Superfortress.
Length: 99 ft (30 m) Wingspan:141 ft (43 m). It is powered by four-piston engines that give a max speed of 357 mph (575km/h). It was prominent in WWII. Overall it has flown in different capacities: as a bomber, aerial refueling, the mothership to an experimental parasite fighter and an experimental supersonic aircraft. This aircraft had a remake as the B-50 which is a more powerful post-WWII version of it. This aircraft was also reverse-engineered by the Russians and was called Tupolev Tu-4.
This aircraft is still an icon today. There are many that are on static display, but two B-29s are flight worthy: Doc and Fifi. NOTE: I saw Doc at an airshow a while back (I love going to airshows). This plane is sorta remake from my previous one made a few years ago and decided to make it look more the real aircraft. ATTENTION: You may use this creation, but please keep 321Aerobird the tags!
Details
2685
DNA points
Diet:
Omnivore
Health:
+3
Sociability


5 / 20

Aggressiveness


9 / 20

Abilities


7 / 15
There are no comments for this creation
See creations
User profiles
Enter a profile's name:
Search
Enter the words to search:
Creations
Enter an ID number of a creation or Sporecast:
Compare achievements
Enter the name of two users in order to compare their achievements
Events
Contact us at
Web by Alex Aladren