Sporistics
Siren Head
Not rated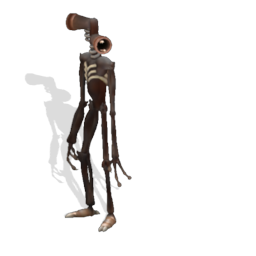 Download

By Unsilent_Bob
03/16/2020 - 02:42:50
Type: Creature
Rating: 3 (Not rated)
Tags: /x/, creepy, creepypasta, paranormal, supernatural
Description
[Description]
Siren Head is a fictional cryptid that was created by the artist Trevor Henderson. The creature's image garnered minor popularity on 4chan's /x/ paranormal board. It is kind of a cult-icon within creepy internet urban legends, and has accumulated a fan following which has spawned numerous fan art pieces and fan-made video games.

[Examples]
The first I personally saw was a gameplay video of a short horror game on Youtube featuring the eponymous creature. For those interested, search "Siren Head - atmospheric ps1 styled horror game" on Youtube.

Siren Head also appears in the Fallout 4 Mod "Whispering Hills", which is a horror-themed overhaul mod for the game that is heavily inspired by Silent Hill. Highly recommended by the way.
Details
1090
DNA points
Diet:
Carnivore
Health:
+3
Sociability


8 / 20

Aggressiveness


8 / 20

Abilities


0 / 15
See creations
User profiles
Enter a profile's name:
Search
Enter the words to search:
Creations
Enter an ID number of a creation or Sporecast:
Compare achievements
Enter the name of two users in order to compare their achievements
Events
Contact us at
Web by Alex Aladren